Community
Trinity Church has been firmly rooted in the Asylum Hill neighborhood of Hartford for over 150 years. Though it is a place of worship for a diverse congregation, coming from many communities across the Greater Hartford region, our involvement in the community is something that defines who we are.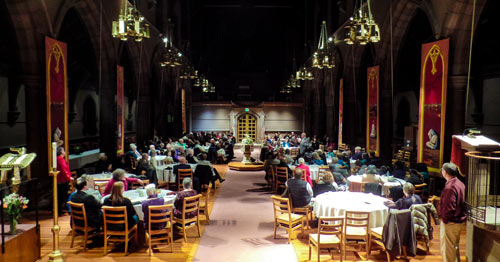 Trinity has a strong outreach ministry, we are host to many recovery programs, and we have been an incubator for several community programs, including Loaves and Fishes, Trinity Academy, the Fresh Start Pallet Project, and many others. We have also long held ecumenical and interfaith relationships through such organizations as the Conference of Churches and Hartford Seminary's Building Abrahamic Partnerships program.
Asylum Hill is the neighborhood that was home to Mark Twain and Harriet Beecher Stowe. Today it is also home to corporate headquarters of Aetna/CVS and Hartford Insurance. Neighborhood partners have included West Middle School, The Salvation Army, and the Boys and Girls Club of Hartford.