Choir School of Hartford
The Choir School of Hartford is a unique enrichment program for students in third grade through high school.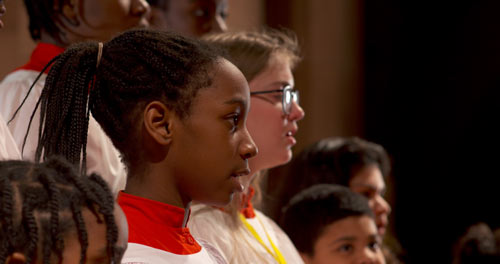 A dedicated staff of professional musicians work with a culturally diverse group of students from a variety of towns around the Greater Hartford area. Each student is given a superior musical education, including professional choral training and a weekly piano lesson. This training in a supportive environment fosters a love of music, and has been shown to increase their performance in academic areas such as math and reading.
Employing the Voice for Life curriculum from the Royal School of Church Music, The Choir School of Hartford also gives students skills that will enhance their lives such as teamwork, mentoring, leadership, punctuality, time management, and confidence. These skills are further reinforced as they perform regularly as part of Trinity's worship, and in locations such as the Governor's Mansion and Avery Fisher Hall at Lincoln Center in New York City. The students also earn awards and receive a stipend for rehearsals and performances, which affirms the importance of commitment and responsibility.
If you are interested in supporting The Choir School of Hartford, or know of a student who would benefit from the program, please contact Michelle Horsley (860) 527-8133, ext. 205.