Engaging our Neighborhood
"Love your neighbor as yourself" - Mark 12:31
South Marshall Street Interfaith Coalition
Asylum Hill Neighborhood Association
South Marshall Street Interfaith Coalition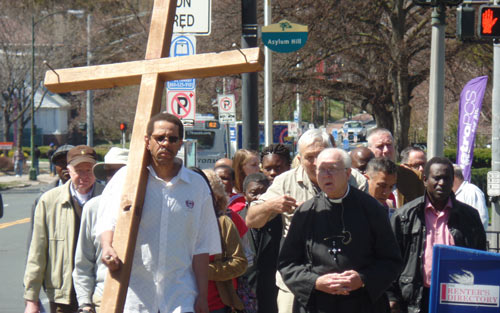 "If we just sing of doing good, and don't walk through our neighborhood; to learn its hope, to ease its pain; our talk of good is simply vain"
South Marshall Street, long regarded as one of the most challenged streets on Asylum Hill, is home to 200 refugee families, as well as residents of Marshall House Family Shelter, several Section 8 apartments, and 24 Habitat homes housing over 250 children – just 3 blocks from Trinity Church.
The South Marshall Street Interfaith Coalition was formed through a cooperative coming together of churches (Immanuel Congregational, Trinity Episcopal, Grace Lutheran, Asylum Hill Congregational), businesses (Aetna), and non-profit organizations (Asylum Hill Neighborhood Assn., Salvation Army, Habitat for Humanity), along with many other businesses and non-profit organizations on Asylum Hill to create positive change while instilling a cohesive sense of community into this once neglected neighborhood.
The Coalition holds meetings on the second Tuesday of each month at Immanuel Congregational Church for the purpose of working together to find solutions to enhance the lives of the residents in the neighborhood.
This is accomplished primarily through a series of seasonal Block Parties on the street, organized by the Coalition and held in June, October, and April, where food, fun-activities, and music blend with representatives from churches and community service organizations that provide information about free medical and social services available to the residents.
Asylum Hill Neighborhood Association
The Asylum Hill Neighborhood Association is the NRZ for the larger section of Hartford we inhabit. The neighborhood was named for what was then The American Asylum at Hartford for the Education and Instruction of the Deaf & Dumb Persons, now the American School for the Deaf. While ASD moved to West Hartford many years ago, the neighborhood still is known for the Asylum. Trinity has been involved with AHNA since its beginnings.